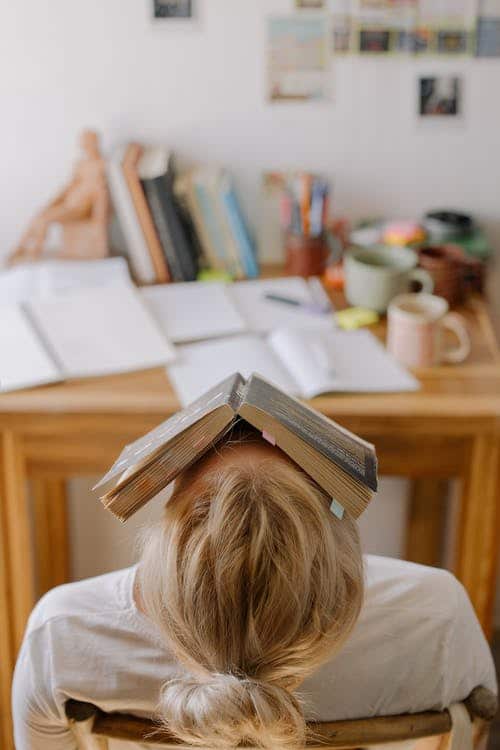 15 Oct

How to Deal with Exam Anxiety

According to a study by the Organization for Economic Cooperation and Development, students in Singapore have more exam anxiety than their international peers. The competitive culture in the country could cause this.

It is okay to be a bit nervous when the tests are near. However, you need to watch out when you cannot concentrate on your revision or have headaches because you can end up in exam stress which will, in turn, affects your performance.

Here are tips that can help you deal with exam anxiety;
9 Ways to Deal with Exam Anxiety
1. Prepare for the Exam
Most students get more nervous because they haven't prepared well for their exams. Therefore, it is crucial to start to equip yourself well early enough. Begin your revision as soon as the schools open.
One of the best tools that can help you prepare well is a study plan. Have a well-balanced study plan to cover all the subjects that will be tested. It will help you know what you are best in and what you need to put more effort into.
Besides, when you prepare well, you will have the confidence to sit for the exam. It will help you overcome exam anxiety because you know what you will likely get in the question paper.
2. Interact with Exam Questions
Another way you can deal with exam anxiety is to interact with exam questions. Get past exam papers or textbooks with questions and familiarize yourself with them.
When you know what the examiner will ask, you will have the confidence to face the exams. It will also prepare your mind well such that you won't panic when you get to the exam room.
Besides, try to solve these questions on your own. Gauge your ability and get to know where you need more practice. You can ask your subject teacher to help you with the complex questions.
3. Pinpoint Any Anxiety Symptoms
Exam anxiety symptoms are likely to appear as the exam approaches. Therefore, be on the lookout to identify and deal with them as early as possible. As a result, you will be able to revise and do your exams in perfect peace.
Some of the symptoms you may experience are headache, shortness of breath, rapid heartbeat, fear, anger, and helplessness. Besides, you can experience a lack of concentration, negative thinking, and comparing yourself with other students.
4. Be Positive
Positive thinking is also a good way to fight exam anxiety. It helps you to believe in yourself. As a result, you won't have to fear facing the exam and getting your best grades.
Also, positive thoughts will help you to concentrate on what matters. You will be able to sit down at your study spot and maximize your study sessions. Hence, you can master all the concepts and formulas at your fingertips.
Therefore, when you have negative thoughts toward your upcoming tests, replace them with positive ones. For example, when you are familiarizing yourself with exam questions, you may find yourself in a state of 'I have never come across such a question,' you can replace it with 'this question seems difficult, but I will leave it first and then come to it later on.'
5. Embrace a Self-care Program
Your emotional, physical, social, and spiritual well-being are key to dealing with exam anxiety. They keep your health on top, and hence you can revise and sit for your exams without any challenges.
Besides, a self-care program will help you strike a balance between studies and your health. Despite the exam pressure, you will remain whole without falling sick.
Some ways to take care of yourself are drinking a lot of water, eating healthy meals, keeping fit, meditating, connecting with friends, and getting enough sleep.
6. Don't Focus on What Others are Doing
You may be tempted to check on what your classmates are doing in terms of their revision. This can add more pressure on you because your revision strategy may be different. Besides, what works for them may not work in your case.
Also, you may be good at different topics with the other students. Therefore, concentrate on your study plan and revise according to your ability.
Finally, comparing yourself may lead to exam anxiety. This is because you will see something your classmate has done and you haven't done. Besides, you may think that you will fail because you didn't study like your classmates.
7. Start with the Questions You Know
Once you get into the exam room, go through the question paper and know the exact questions tested. Also, mark out the questions you know and start with them. You don't have to begin with the first question.
Starting with the questions you know will help you to get enough time to do the complex questions. Besides, it will give you the morale to attempt all the questions because you are already motivated by the simple questions.
On the hard, if you pay attention to the challenging questions first, you are likely to be hit by exam anxiety. This is because you will feel like you didn't revise enough. Besides, you will waste the time you could have used to solve the simple questions.
8. Accept that You May Not Know Everything
Although you have gone through your class notes from cover to cover, familiarized yourself with exam questions, and attended a discussion group, you may find a question you have no idea about. It would be best to prepare your mind if you find such a question to avoid exam anxiety.
This will help calm your nerves down if you come across such a question in the test. As a result, you won't become confused or start having negative thinking that you will fail.
However, do not leave blank spaces in an exam. Try as much as possible to answer every question. When you come across a challenging question, break it down and try to solve it in parts. You may get some marks, if not all.